You might not know what el wire is, but you've probably seen it before. Thin, long lights that can be sewn on to jackets, hats, or entire outfits. It looks like this: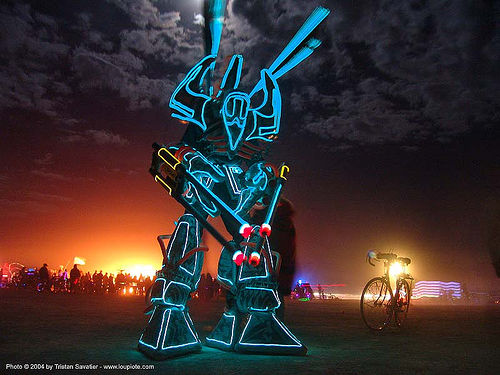 So what can you do with it?
Accent corners (such as the hems of hats, the curve of goggles, helmets), costume hems and seams (like the bottom of a skirt), jutting shapes (like the collar of a jacket), or create designs in the center of outfits (such as luminescent images). You can even light up a whole outfit by creating rows of el wire.
Some various ideas on how to use El Wire.
Where can you get it?
Online here:
http://www.elbestbuy.com/
Or here:
http://glowhut.com/
Buy Local Here:
http://www.coolneon.com/
More about El Wire:
http://azburners.org/elwire.htm
Some more ideas:
El Wire dress by Diana Eng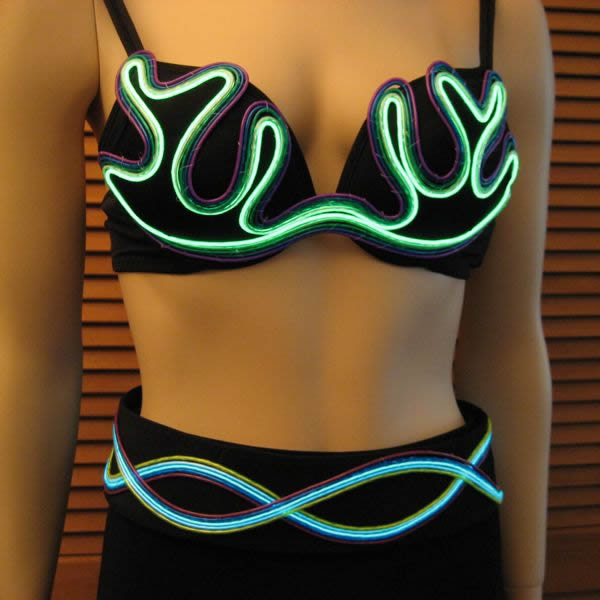 Design by
Englighted.com
Wings By http://www.totalfuckingarmageddon.com/Projects/Clothing/